President's Message
The highlight of 2020

The highlight of 2020 was always going to be moving into the new Nunawading Community Hub and COVID-19 will not stop that.

While we have been in lockdown for the past 12 weeks, the building has continued.
The City of Whitehorse has established a Relocation Support Group (RSG) to liaise with Silver Grove User Groups to help ensure a smooth transition. A small group from our Committee of Management (Elsie Mutton, Course Administrator; Valerie Donlon, Vice President/Convenor, Communications; Andrew Gee, Vice President /Convenor, Transition to the Hub; and myself as President) met with the RSG to discuss communication and relocation processes and will continue to meet them every two weeks until we move.
Timelines are still fluid, but we are hoping to move in during late August and are planning orientation walk-throughs for the Committee of Management, Class Leaders, Team Leaders and Front Desk Volunteers in early September. We are optimistic that all members will have an opportunity to experience the facility by the end of term 3 with classes resuming in term 4, government restrictions permitting.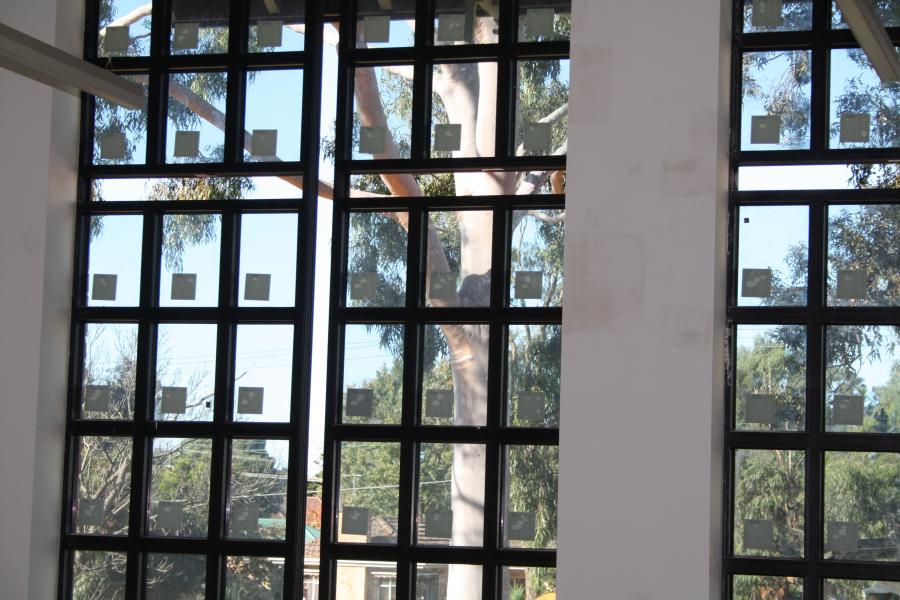 May 2020: Inside view of restored windows in the heritage building. The windows match those from the original school building.
A piece of welcome news earlier this month is that we were successful in winning a community grant for $20,000 from the Blackburn South Branch of Bendigo Community Bank. We are most appreciative of this grant, which will enable us to purchase two stages for the new Hub. This will be a benefit for many of our classes and performances. Most significantly, it will be a valuable resource that can be shared with the entire Whitehorse community.
U3A is a great movement comprising over 100 U3As throughout Victoria of which our U3A is the largest. Every year, U3A Network Victoria which acts as an umbrella body, holds a Presidents' briefing to enable Presidents and Delegates to share ideas and resources, and discuss issues of concern. Last week, 77 U3As participated in a state-wide webinar at which Valerie Donlon, our Delegate and I represented U3A Nunawading.
It is always useful to hear what other U3As are doing and this year it was particularly interesting to learn how they are managing through the pandemic. Like our own U3A, staying connected with members is the number one priority. Many U3As have learnt to utilise a range of technologies, most notably Zoom, demonstrating our resilience and flexibility during this challenging time. Our U3A has played a leading role in this movement. Thanks to everyone who has contributed!
Warm Regards
Liz Hooper
President, U3A Nunawading
On behalf of the Committee of Management